So its been awhile, and I promised I wouldn't take so long between entries... sawwy.
anyhoo!
The spring line is coming along very slowly... haha, I have a habit of getting side-tracked. I did come up with a few new shapes however, and ended up submitting a mini collection to
The Pink Parlour
as an entry to win a spot in their Fashion Show, which didn't end up working out... but it DID force me to put together a cohesive collection, so that was a win. :)
After that, I kept working on more and more pieces... and I uploaded a hefty bunch to etsy the other night including these babies: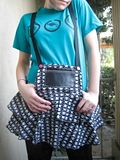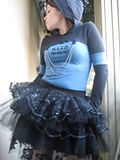 I've started doing more Tee shirt Recons lately... brings me back to the old days! lol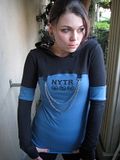 and remember this sample? from my last entry???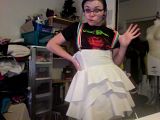 Finished product! and I will be making this in more variations as i perfect the design...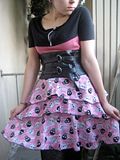 ..... so you can check all those out and TONS more on my
etsy
:)
I also finally got some tees printed with my logos and such on them (as you saw above, one of the designs is a "Rock out with Yourself Out" and the teal shirt with my three logos), there's also one with an awesome drawing of me on it: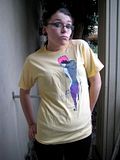 I've been wanting to have tee shirts for a LONG time. Its awesome to finally have them, and like, walking advertisements for my clothing line... AND I can finally clothe some boys too.... THERE MALES... ARE YOU HAPPY!? haha... I get requests for menswear ALL the time. And I would LOVE to make some... its just so easy to make girl clothing when you know... I can try it on for fit, and I have a female dress form.
Not sure if the BF would be quite as glad as I am to try things on over and over again to get the fit right... One of these days though, I want to dive into some menswear. Vests, hoodies, blazers, etc etc... but for now, you get tee shirts.
So that's what I have been working on lately, keeping myself occupied, as always. I have many more projects on deck (as per usual) including jewelry! Those should hopefully be up by the end of April at the absolute latest. And I'll try my best to post progress shots up here. As jewelry itself is something I've worked very little on in my years as a crafter... but this particular type and material, I've never even used before... so it could be an adventure....
Until next time all!